Quinoa Tabouleh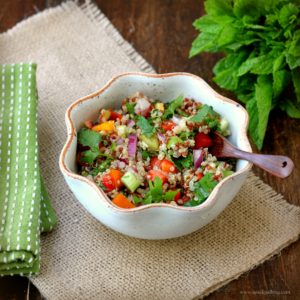 2 garlic cloves, minced fine

Juice from 1 lemon with zest

1 cup diced cucumber, peeled or unpeeled (your option)

1 cup diced tomatoes or cherry tomatoes halved

¼ chopped green onions

3/4 cup chopped parsley (curly or flat leaf)

3 tablespoon of extra virgin olive oil

Sea salt & cracked pepper to taste

2 cups cooked quinoa*

In large bowl mixed together everything except quinoa. Gently fold in quinoa into vegetable mix. Refrigerate for at least 1 hour. Garnish with fresh chopped avocado before serving if desired.

Directions for Cooking Quinoa
Ratio quinoa to water is 1 to 1 1/2. Always rinse quinoa first. Bring water to boil and add quinoa. Reduce to low simmer and cover. Cover tightly and cook for 12 minutes. Remove from heat and allow to stand for 10 minutes before removing lid. Fluff with fork.